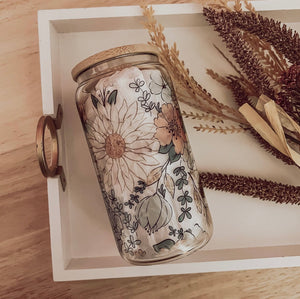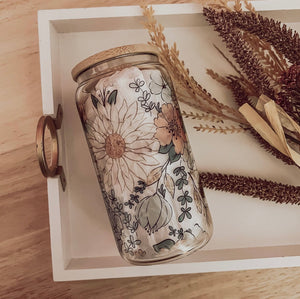 On Sale
Fall Floral 16oz Glass Cup
These trendy beer can shaped glass cups are perfect for all of your cold beverages, including iced coffee, and make wonderful gifts for any occasion. 


-Included with each 16oz can shaped glass is one bamboo lid with silicone rubber seal and one reusable plastic straw
-Images on glass are not vinyl. They will not peel. 
CARING FOR YOUR GLASS
-Not dishwasher safe. 
-Not microwave safe. 
-Gently hand wash glass, bamboo lid and straw. We recommend you wash the bamboo tops with dish soap and leave them out to dry. 

To remove odors, soak the bamboo top in vinegar. Mix equal parts hot water and vinegar in a bowl and let the top soak for up to 20 minutes. Rinse thoroughly and towel dry. 


**Please use proper clean and care for your bamboo lids to avoid mold and prolong its life. We are not responsible for improper care.